tottini has partnered with Allrecipes.com to bring you a new series about healthy eating for pregnancy and postpartum.  Expectant Allrecipes.com staff members will be sharing their favorite recipes for all dietary preferences with our readers.  Our second piece is from Marney Ayers Freeland, who delivered her second baby (a girl) a few shot months ago and contributed this article weeks prior to her daughter's arrival.  She highlights a few delicious recipes that are perfect for freezing and having handy after baby is born.
With only 4 weeks to go until my due date, I'm in constantly running down my to-do list before baby comes. High on that list is make-ahead snacks and meals to feed myself, my husband Morgan, our 2 and 1/2 year old son Hudson and the extended family members that seem to constantly be stopping by the house.
I love cooking, but not when I am super busy, so having some items made ahead that are healthy for the family will ease my mind and gives me a break. I'm very lucky I work at Allrecipes.com, where I'm surrounded by people who are always ready to share tips, ideas and their favorite recipes.  It certainly helps to motivate me.
Here's the game plan, I'm going to double recipes I'm already planning on making in the next couple weeks and freeze half.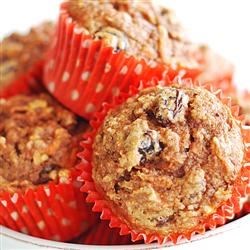 These are some of my favorite muffins to make, Morning Glory Muffins.  I just let them cool then freeze them in freezer bags. Hudson is allergic to nuts, so for any recipe with nuts I just take them out. One replacement for nuts that I love for baking is raw millet. It's good for you and adds some crunchy texture.  Another make-ahead breakfast favorite that can be easily frozen is Whole Grain Waffles.
A few more convenience items that are nice to have on hand are already cooked grains. To cut down on prep time later, I just cook, cool and then freeze them in bags. My favorites are farro, quinoa, and wheat berries, which are all great to add into soups, salads or heat up as a bowl. I do variations of this Quinoa and Black Bean dish with whatever I have on hand to make Hudson a hot quinoa bowl. His favorite variation is with shredded sautéed zucchini, cheese and avocado.  photo from Allrecipes.com
Soups are really easy. I usually try to freeze in different sizes, some in liter freezer bags and then some in smaller portions using my Beaba Food Storage Containers.
One of my favorites is Butternut and Apple Harvest Soup.  I cut the onion and leeks in half when I'm making it for a new mom though and leave out the cream until I'm heating it up to eat (in case baby has an aversion to any of these items, sometimes common in breastfed newborns).
Other great options to freeze are the Curried Carrot Soup and Lebanese Style Red Lentil Soup.
My final recommendation are casseroles.  Easy to prepare and ideal when expect a house full of family after the baby, they are great meals to share. My favorite seriously good comfort food is Chef John's Irish Shepherd Pie.
Not sure how long you can keep something in the freezer?  I use this as a reference.
Marney Ayers Freeland, a Senior Marketing Manager at Allrecipes.com is the mother of a busy 2 year old and expecting another at any moment.
She loves to cook healthy meals with fresh ingredients, but still has a weakness for comfort food.  But hey, if it's all organic it's still healthy, right?
If you're new here, you may want to subscribe to my RSS feed. Thanks for visiting!
Melissa M. on July 24th, 2013 | No Comments -
Leave a Reply